Arctic Climate Footprinting
Scientists have confirmed that the Arctic is in crisis. At the current rate of warming, Arctic summers will be ice-free within five to ten years, for the first time in 65 million years. There will be enormous disruption to local communities and wildlife. But that's just the tip of the iceberg—a melting Arctic will have dire consequences for the entire planet. Urgent action is needed to save the Arctic. Determining your Arctic Climate Footprint is the first step towards reducing your impact and taking action to save the Arctic.
Do you know your impact on the Arctic?
You've measured your carbon footprint and GHG inventory. But do you know your Arctic Footprint? Whether you know it or not, your organization's operations, purchases, and products are affecting the Arctic regional climate—and it's not only carbon that matters. Scientific Certification Systems provides life cycle-based accounting of your Arctic Footprint that goes beyond conventional carbon footprinting to precisely show you your impact on the Arctic so you can take action that makes a difference.
Learn the science behind the Arctic meltdown.
While conventional GHG accounting focuses on the six Kyoto greenhouse gases, Arctic Footprinting includes other key pollutants that have serious consequences on the climate of the Arctic region and the rest of the planet. Learn about the pollutants causing the Arctic meltdown and what a melting Arctic means for the entire planet.
Learn more about the Arctic Warming Crisis
Learn more about the Key Arctic Pollutants
Contact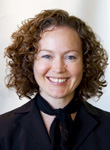 Ashley Foster
Sustainability Manager, Life Cycle Services
Environmental Certification Services
510.452.8048